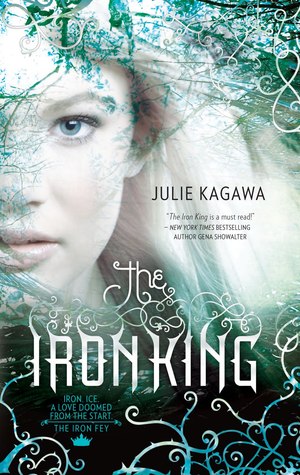 Author:
 Julie Kagawa
Series: The Iron Fey
Genres: Young Adult, Fantasy, Romance
Release Date: 1st February 2010
Publishers: Harlequin Teen
No. Pages: 384
Source: A gift from a friend
Meghan Chase has a secret destiny; one she could never have imagined.Something has always felt slightly off in Meghan's life, ever since her father disappeared before her eyes when she was six. She has never quite fit in at school or at home.When a dark stranger begins watching her from afar, and her prankster best friend becomes strangely protective of her, Meghan senses that everything she's known is about to change.But she could never have guessed the truth – that she is the daughter of a mythical faery king and is a pawn in a deadly war. Now Meghan will learn just how far she'll go to save someone she cares about, to stop a mysterious evil, no faery creature dare face; and to find love with a young prince who might rather see her dead than let her touch his icy heart.
When I realised that this story contained characters from Shakespeare's A Midsummer Night's Dream I wasn't thrilled, however, as the story progressed my opinion slowly changed. The use of well-known characters helped to build a stark contrast between the iron fey, a new kind of fey which were created from human's dreams of advancements of science and technology, and the fey of the summer and winter courts
The main protagonist of this story, Meghan Chase, was strong, loyal and determined. I loved the fact that she was willing to do anything to save her brother and throughout this story that was her main focus. However, she did become increasingly frustrating when she acted rashly and would blindly make deals within the fey world, especially after she had been warned of the severe consequences a promise could have.
This story contains a horribly cliché love triangle that I, surprisingly, did not hate. Prince Ash is the stereotypical attractive bad-boy, who our heroine should not love, but can't help finding herself falling for. Puck is the typical best friend who is often sidelined as the heroine seems to make all of the wrong choices and falls for the wrong guy. Although, all three (Puck, Meghan and Ash) are pretty overdone characters it is hard for the reader to not fall in love with their quirky dynamic.
Kagawa's writing style is descriptive, easy to read and includes the right dose of humour at the right times. However, there are times where the story line fell flat and I found myself losing interest.
Overall, this story is interesting and entertaining but did not meet my high expectations. Although, I do believe this is a series that will get better with time.
I am currently reading the second book and will be posting a review of it soon, so keep an eye open for that!