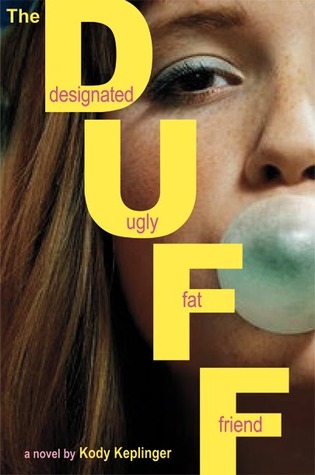 Author:
 Kody Keplinger
Series: None
Genres: Young Adult, Romance, Contemporary
Release Date: 7th September 2010
Publishers: Little Brown/Poppy
No. Pages: 280
Source: Myself
Seventeen-year-old Bianca Piper is cynical and loyal, and she doesn't think she's the prettiest of her friends by a long shot. She's also way too smart to fall for the charms of man-slut and slimy school hottie Wesley Rush. In fact, Bianca hates him. And when he nicknames her "the Duff," she throws her Coke in his face. But things aren't so great at home right now, and Bianca is desperate for a distraction. She ends up kissing Wesley. Worse, she likes it. Eager for escape, Bianca throws herself into a closeted enemies-with-benefits relationship with him.Until it all goes horribly awry. It turns out Wesley isn't such a bad listener, and his life is pretty screwed up, too. Suddenly Bianca realizes with absolute horror that she's falling for the guy she thought she hated more than anyone.
Warning: This review contains mild spoilers.
Prior to watching The Duff movie trailer, I had never even heard of this book. After watching it I was certain I would enjoy this book, however, the book wasn't much like the trailer…
The story follows Bianca Piper as she struggles to comes to term with the offensive label she had been given and the divorce of her parents. Bianca was a very cynical and pessimistic character, although it did not bother me for the most part of the story it did become annoying at times, especially when the situation did not call for it. However, her character did have a realistic element to it as she struggled to deal with her insecurities, a struggle many teenage girls have, which helped make her more relatable to the target audience. I wasn't much of a fan of Bianca as she was constantly thinking and saying things that she later done herself; she was very hypocritical. In contrast, I did enjoy how Bianca handled Wesley and found her very entertaining and funny at times.
The Duff did contain characters that I did indeed like. Casey and Jessica, Bianca's two best friends, were very likeable and provided a stark contrast to Bianca's Characters. Both these characters were upbeat, perky and kind.
Wesley was your stereotypical rich, hot, high school jerk, that seemed to have stepped out of a cliché American High school movie. It wasn't only Wesley's character that was very overdone, but most of the book. However, there were times that hinted that Wesley was a dynamic character, but I personally do not believe Keplinger explored this enough, which could be due to the narrator, Bianca, being pretty self-absorbed.
This story, it seems, contained too many problems for the author to handle. Bianca faced many issues, most notably was when her father, who was a recovering alcoholic that had been sober for 18 years, began to drink again after her mother filed for a divorce. Keplinger seemed to use this as a reason for Bianca to make even poorer decisions and never really seemed to explore this issue enough, now I know this stories main focus was the offensive labels high school students create for one another but this problem just seemed to resolve itself. It also gave the message that if you have a problem of this huge a scale you should do nothing as it will resolve itself in time, this just wasn't realistic.
I think the main issue I had with this book was the constant slut-shaming, which frustrated me to no end. Words such as "slut" and "whore" were thrown around this book so casually and so often that I found myself questioning if half the times they were really necessary.
Keplinger's writing was easy to read and I flew through the book in no time. She set a good pace for the book that ensured the reader would not become bored and included many humorous moments throughout. The only problems I had with her writing was the holes in the plot and that some of the conversations came across unrealistic.
Overall, this book was very stereotypical but it did contain a good message at the end. I believe that if the book contained less slut-shaming and the loose ends of the plot were tied, I would have enjoyed this book much more than I did.