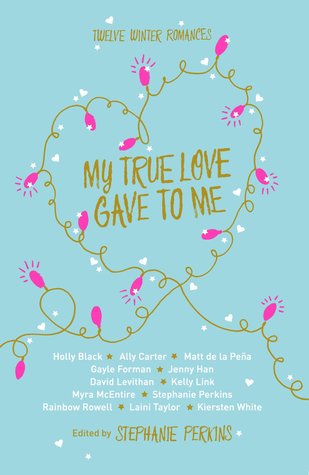 Author: Various / Edited by Stephanie Perkins
Series: None
Genres: Young Adult, Holiday
Release Date: 9th October 2014
Publishers: Macmillan Children's Books
No. Pages: 355
Source: Myself
Buy at: BookDepository
On the first day of Christmas, my true love gave to me …This beautiful collection features twelve gorgeously romantic stories set during the festive period, by some of the most talented and exciting YA authors writing today. The stories are filled with the magic of first love and the magic of the holidays.
This book contained short stories from some highly regarded authors. So, it was only natural that I couldn't wait to get my hands on it. Especially since this would be my first taste of many of those authors. Like many short story collections there were a few amazing ones and some that just didn't meet my expectations.
As none of these books were related I'll be reviewing each story individually.
"Midnights" by Rainbow Rowell – 5/5
Rainbow Rowell was the only author of the twelve who's previous work I had read (and loved). So, it was no surprised that I was most excited for her story. This was a wonderful, cute and funny story; that was probably my favourite of the collection. The characters were well-developed, and it surprised me how attached I grew to to them in only a short amount of pages.
"The Lady and the Fox" by Kelly Link – 1/5
I found this story boring and dull.
"Angels in the Snow" by Matt De La Pena – 3/5
Although, I did like this story, it was a little too predictable. My favourite aspect of this story had to be the subtle exploration of racial stereotypes, which made this story stand out from the rest.
"Polaris is Where You'll Find Me" by Jenny Han – 2/5
This was a really short story. I did enjoy the idea of a child growing up in the north pole, however, the romance within this book was pretty flat and disappointing.
"It's a Yuletide Miracle, Charlie Brown" by Stephanie Perkins – 4/5
I have heard so many amazing things about Stephanie Perkins and was extremely excited for my first taste of her work, fortunately she did not disappoint. Although, this story only spans over a few hours, the characters are likeable and the romance was anything but cheesy (which I was expecting it to be). After finishing this story I found myself wishing Perkins would consider continuing these characters story in a full length novel.
"Your Temporary Santa" by David Levithan – 1/5
This story was cute but I found it to be a task finishing it.
"Krampuslauf by Holly Black – 1.5/5
Holly Black is an author I've heard mixed things about, however, most of these things are usually good. Unfortunately, my first taste with her writing was pretty disappointing. This story wasn't anything special.
"What the Hell Have You Done, Sophie Roth?" by Gayle Forman – 3/5
This wasn't my favourite of the twelve stories, by far, but it was still an enjoyable read. I found learning about the two protagonists back stories interesting, however, it did feel as though their romance was forced, that they only liked each other because they were both outsiders.
"Beer Buckets and Baby Jesus" by Myra McEntire – 2.5/5
This was the cliché opposites attract story, however, it was still a cute and easy read.
"Welcome to Christmas, CA" by Kiersten White – 3.5/5
This was a heart warming story that not only focused on a romance but both the rekindling of a family and an escape from an abusive relationship.
"Star of Bethlehem" by Ally Carter – 3.5/5
This was very predictable, however, I still enjoyed it. My favourite relationship within this book was not the romance, but the one between Lydia and Aunty Mary, who both shared their grief over loss of their loved ones. This story made me both laugh and smile.
"The Girl Who Woke the Dreamer" by Laini Taylor – 4/5
I was very excited about this story due to the high praise for Laini Taylor's Daughter of Smoke and Bone triology. Although, this story didn't really focus on Christmas I did enjoy the fantasy element within it. I also enjoyed Taylor's descriptive writing style immensely.