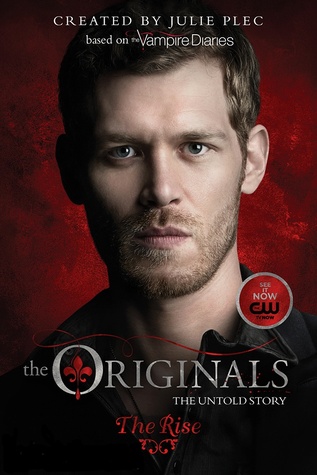 Author: Julie Plec 
Series: The Originals
Genres: Young Adult, Fantasy, Paranormal
Release Date: 5th Feburary 2015
Publishers: Hachette Children's books
No. Pages: 352
Source: Netgalley
Buy at: Amazon

Family is power. The Original vampire family swore it to each other a thousand years ago. They pledged to remain together always and forever. But even when you're immortal, promises are hard to keep. Arriving in New Orleans in 1722, Original vampire siblings Klaus, Elijah and Rebekah Mikaelson believe they've escaped their dangerous past. But the city is lawless, a haven for witches and werewolves unwilling to share territory. The siblings are at their mercy…especially after Klaus meets the beautiful and mysterious Vivianne. Her impending marriage is key to ending the war between the supernatural factions and Klaus's attraction to her could destroy the uneasy alliance. As Elijah works toward securing a piece of the city for his family, and Rebekah fights her unexpected feelings for a French captain, will Klaus's volatile desires bring their world crashing down and tear them apart for good?
I picked this book up because I'm a fan of the TV series, whilst I did enjoy this book I think that was more due to me having watched the show, than for the actual content of this book. Don't get me wrong, this book wasn't horrible, but I feel as though someone who had not watched the show would not have felt the same level of emotional investment and attachment to the characters and the story, as someone who had.
The story follows Klaus, Rebekah and Elijah Mikaelson as they arrive in the city of New Orleans, in hopes to finally find a place to call home. However, 9 years after their arrival the Mikaelson's are still viewed as the unwanted guests. As the witches and werewolves of New Orleans draw closer to creating a lasting truce, through the marriage of Vivianne Lescheres, the daughter of both a witch and a werewolf, and Armand Navarro, the son of the Alpha of the Navarro pack, the two factions may finally unite against the vampires of New Orleans. Unfortunately for them, the Mikaelson's have plans of their own.
As this story is narrated by each of the three siblings, it was interesting to see how differently each of them thought, acted and expressed themselves. It's often difficult to distinguish between narrators in books but Julie Plec did a fantastic job in creating a distinct voice for each character.
The characters, for the most part, stayed true to the ones portrayed on the show. This made it feel as though this book was another episode of The Originals. Consequently, the fact that these characters were identical to the characters on the show (which is set in modern day, and the book is set during the 1722) really emphasized how each of them were unwilling to adapt and so were destined to continue making the same mistakes they previously had.
Whilst I did not fall in love with Plec's writing style, it was not awful. There were the way certain sentences were worded and the repetition of particular words/phrases that did irk me, however, these were minor problems and were easy to ignore. I was probably being overly critical and so they are likely to go unnoticed by the majority of readers.
Although Klaus is by far my favourite character on the show, I have to admit that it was Elijah's story that both captivated and kept my attention. It felt as though Elijah's actions were the only ones that stayed true to the sibling's initial quest and it was clear that he was driven by the love for his family.
A major problem for me within this book was the instalove. Now, I was not entirely surprised as the show often contains unexplained attractions and relationships. However, it was more frustrating to read. Klaus instantly fell in love with Vivianne. Rebekah fell in love with Eric soon after meeting him. Both Rebekah's and Klaus' stories were so driven by infatuations (I refuse to call it love) with people they barely knew. There was one scene within this book where Klaus claimed his love for Viv was true and real, whilst Rebekah's was nothing more than a childish schoolgirl crush. I laughed out loud at how ludicrous that was. I mean, come on! However, Rebekah is known as the girl to fall in love recklessly and blindly, whilst Klaus is known to become enticed with what is forbidden – so I believe the instalove was a result of these traits.
Overall I did like this story and it was interesting to learn more about the Mikaelson's initial arrival to New Orleans. This book is a good companion for the show, but I would not advice reading it without having watched at least a few episodes of the show first.