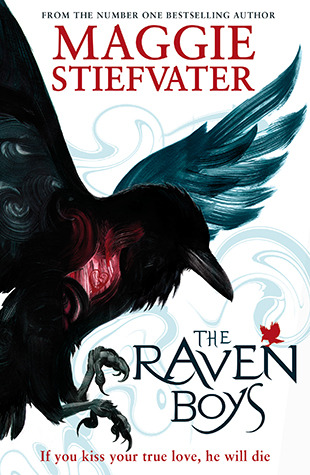 Author: Maggie Stiefvater
Series: The Raven Cycle
Genres: Young Adult, Fantasy, Paranormal
Release Date: 19th September 2012
Publishers: Scholastic
No. Pages: 454
Source: Myself
Buy at: BookDepository
Blue has spent the majority of her sixteen years being told that if she kisses her true love, he will die. When Blue meets Gansey's spirit on the corpse road she knows there is only one reason why – either he is her true love or she has killed him.Determined to find out the truth, Blue becomes involved with the Raven Boys, four boys from the local private school (lead by Gansey) who are on a quest to discover Glendower – a lost ancient Welsh King who is buried somewhere along the Virginia ley line. Whoever finds him will be granted a supernatural favour.
Never before has Blue felt such magic around her. But is Gansey her true love? She can't imagine a time she would feel like that, and she is adamant not to be the reason for his death. Where will fate lead them?
The Raven Boys was possibly the single most complicated and infuriating book I've ever read, well, it certainly was for the first 100 pages or so.
The story follows Blue Sargent, the only non-psychic in a household full of psychics. But Blue has her own ability, she is able to amplify energy and make their visions clearer. This is why Blue is dragged to the cemetery each year, on St. Mark's day, to help her mother record the names of the soon-to-be dead. However, something's different this year… Blue see's Gansey, a rich kid from the local private school. Her aunt tells her their is only two possible reasons for a non-seer seeing a spirit on St. Mark's day; she killed him or he is her true love.
Blue's mother and the other psychics around her have always warned Blue that her kiss would kill her true love. So, when she encounters Gansey and his group of Raven boys, Blue is wary.
The constant emphasis of 'true love' and 'killer kiss' left me sceptical on how much I would truly enjoy this book – especially after it was mentioned multiple times in the first couple of chapters and as it was featured on the cover of my copy. My worries were for nothing, fortunately, as the book barely focuses on romance. In fact, the romance takes a back-seat to the search the raven boys and Blue are undertaking.
Blue, for the majority, was an easy character to like. She was determined, strong and loyal. However, their were times where I thought she was far too slow in putting two and two together – I would figure out something but she would only come to the same realisation after another three chapters.
The Raven Boys were a group that contrasted and complemented each other perfectly. Gansey was the clear leader. A boy born into wealth, someone who knows how to charm and captivate a room. Then we have Ronan, he's originally perceived as a hot head but we see he is much more. He's fiercely loyal to Gansey and brutally honest. Then there's Adam. Unlike the other two, Adam comes from a poorer family. He's hard working and like Ronan, fiercely loyal to Gansey. Out of all of the boys, Adam was the hardest for me to like. He was constantly refusing help even when he was in a dire situation, but after reflecting on his decisions and actions its clear Adam wants his legacy to be that he achieved his success without the help of anyone else. He wanted to do it himself and I sort of admire him for this. And lastly, we have Noah. I can't say much for Noah as he's the quite one of the  group. It's hard to make a clear judgement on his character as he's reclusive so hopefully in the next book we see him come out of his shell.
Many have said that Maggie's writing takes time to adjust to, and some have said her style takes the enjoyment from the story. However, I did not experience the same problem. I adapted to her writing quickly and found myself flipping through the pages. Although, it was only until after the 100th page that I really started to understand what was happening and how everything tied together. Once I started receiving answers, the book became hard to put down.
I'll definitely be picking up the sequel!