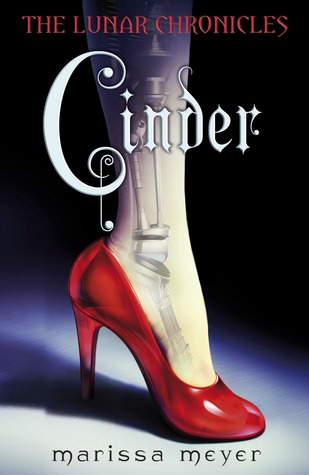 Author: Marissa Meyer
Series: The Lunar Chronicles
Genres: Young Adult, Fantasy, Science Fiction, Dystopia
Release Date: 3rd January 2012
Publishers: Puffin
No. Pages: 390
Source: Myself
Buy at: BookDepository
Humans and androids crowd the raucous streets of New Beijing. A deadly plague ravages the population. From space, a ruthless lunar people watch, waiting to make their move. No one knows that Earth's fate hinges on one girl.Cinder, a gifted mechanic, is a cyborg. She's a second-class citizen with a mysterious past, reviled by her stepmother and blamed for her stepsister's illness. But when her life becomes intertwined with the handsome Prince Kai's, she suddenly finds herself at the center of an intergalactic struggle, and a forbidden attraction. Caught between duty and freedom, loyalty and betrayal, she must uncover secrets about her past in order to protect her world's future.
Where do I start?
Marissa Meyer has created a wonderfully unique story in this retelling of the classic fairytale Cinderella. The story follows Cinder, a cyborg and a mechanic, living in a futuristic New Beijing. How cool and badass is that? Very.
Whilst this story contains everything you'd expect from a Cinderella retelling; the fancy ball gown, the prince charming, the wicked step-mother and the glass slipper (well, a poorly sized android foot in this case). It also contains a few, fairly obvious, twists. However, the predictability really doesn't take anything from the story and I suspect Meyer made it obvious on purpose.
Although this story does contain insta-love, it's so minor and barely focused on that it's easy to ignore. The story rather focuses on more pressing issues; the search for a cure for the plague that is killing millions on earth, the fragile relationship with Luna and it's Queen Levana, and the imminent threat of a war with Luna if a treaty cannot be met.
Cinder is such a quick read and I found myself flying through it. The refreshing and witty characters, the fantastic world build and the excellent writing style made for an entertaining and fun read.
As I'm writing this I'm already halfway through Scarlet and it's amazing. I cannot wait to read the rest in this series.