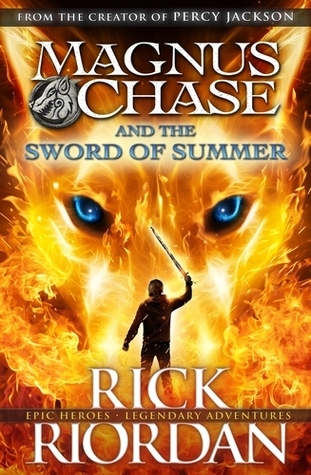 Author: Rick Riordan
Series: Magnus Chase & The Gods of Asgard
Genres: Young Adult, Fantasy
Release Date: 6th October 2015
Publishers: Puffin
No. Pages: 528
Source: Sent by the publisher
Buy at: BookDepository
Magnus Chase has always been a troubled kid. Since his mother's mysterious death, he's lived alone on the streets of Boston, surviving by his wits, keeping one step ahead of the police and the truant officers.One day, he's tracked down by an uncle he's never met—a man his mother claimed was dangerous. His uncle tells him an impossible secret: Magnus is the son of a Norse god.The Viking myths are true. The gods of Asgard are preparing for war. Trolls, giants and worse monsters are stirring for doomsday. To prevent Ragnarok, Magnus must search the Nine Worlds for a weapon that has been lost for thousands of years.When an attack by fire giants forces him to choose between his own safety and the lives of hundreds of innocents, Magnus makes a fatal decision.
Sometimes, the only way to start a new life is to die . . .
---
Forget what you knew about the Norse Gods because Riordan has completely reinvented them. I was expecting Marvel's Thor but instead I got a TV addict, who's constantly losing his hammer. A scary and intimidation all-father who is a no nonsense guy? Nope, Odin is just really bad at giving speeches. And lets not forget about the villainous bag lady.
Magnus Chase has been living on the streets ever since his mothers death. Until his Uncle Randolph, a man his mother warned him to stay away from, comes looking for him on his sixteenth birthday, with the claim that Magnus's father is a Norse God. After an attack by a fire giant, Magnus dies and the real adventure begins.
If you missed Percy's sass, Magnus is going to be a welcome treat. He's witty, sarcastic and a complete dork. Unlike Percy he isn't a sword-wielding badass but he does have some pretty cool talents of his own.
The diversity in this book was awesome. Samirah Al-abbas is a muslim valkyrie and one of my favourite characters. Sam has to overcome some obstacles of her own, but even then she is completely loyal to Odin. She doesn't choose the easy way out but instead fights for what she believes in and to prove herself.
Then we have Magnus's two homeless friends and protectors. Blitz is a fashionable dwarf and Hearth is a deaf elf, together they form quite the comical and lovable trio. Also, the way Riordan handled hearth's deafness was excellent.
The Sword of Summer covers so much in just over 500 pages and I was surprised by how many things actually happen in the book, especially since it never seemed rushed. The book was fun, action packed and contained excellent world building.
For the fans of Riordan's previous series; Annabeth's cameos were some of my favourite scenes and the PJO/HOO references were a highlight. Oh, and lets not forget the return of the witty chapter titles (I know I missed them in his Heroes of Olympus books)
I cannot wait for the second book in this series!
---
the Giveaway:
This is a UK only giveaway for one copy for two winners of The Sword of Summer by Rick Riordan, courtesy of the big shot.
Click here to enter via rafflecopter
!