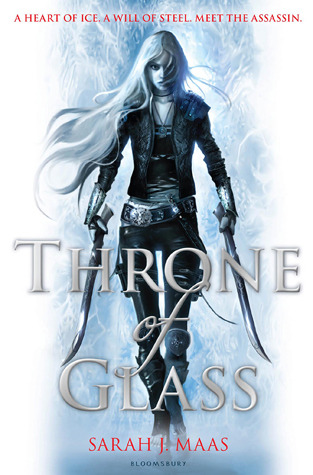 Author: Sarah J. Maas
Series: Throne of Glass
Genres: Young Adult, Fantasy
Release Date: 2nd August 2012
Publishers: Bloomsbury
No. Pages: 404
Source: Myself
Buy at: BookDepository
Meet Celaena Sardothien.
Beautiful. Deadly.
Destined for greatness. 
In the dark, filthy salt mines of Endovier, an eighteen-year-old girl is serving a life sentence. She is a trained assassin, the best of her kind, but she made a fatal mistake: she got caught. Young Captain Westfall offers her a deal: her freedom in return for one huge sacrifice. Celaena must represent the prince in a to-the-death tournament—fighting the most gifted thieves and assassins in the land. Live or die, Celaena will be free. Win or lose, she is about to discover her true destiny. But will her assassin's heart be melted?
---
By this point, you've probably already heard a lot about this book.
Throne of Glass follows eighteen-year-old Celaena Sardothien, a slave in the salt mines of Endovier and once Ardalan's most notorious assassin. When the crown prince offers her a shot at freedom she can hardly refuse. All she has to do is represent him in his father's competition to find a royal assassin. If she wins she will be freed after four years of service, but if she loses she will be sent back to the salt mines to carry out the rest of her sentence. But when the contestants are being killed one-by-one, Celaena must figure out who is behind the attacks before she's next.
I did enjoy Celaena's character. Not only is she a sword-wielding badass but she's also extremely girly; she loves shopping and looking pretty. I see a lot of people complaining about this because they think she's not badass enough for them, but I really liked the fact that Celaena didn't fit the cliché moulds of a badass female or a damsel in distress. Although, we are told about how amazing Celaena is more than shown, I think it fit the story. Especially since she was trying to appear as the underdog in the competition. The one aspect of Celaena that I wasn't too fond of was her constant obsession with everyone finding her attractive, but I found it easy to overlook and it was only a minor flaw. People who dislike this book tend to refer to Celaena as a Mary Sue, whilst I can't deny that she kind of is one, I do think her characterization is right for the role she plays in this story.
Dorian Havilliard, the crown prince of Ardalan and the son of the man who has conquered almost all of Erilea. I don't know how I can express how much I loved Dorian. He's handsome, incredibly sweet and likes to read and breed puppies in his free time. Dorian doesn't hold what Celaena has done against her, from the beginning he treats her like an ordinary girl and is the only one who truly accepts her for who she is from the beginning.
In contrast, we have Chaol Westfall, the captain of the guard and Dorian's closest friend. Chaol is bound by loyalty to his country and prince. He's wary of Celaena from the moment he meets her and hates that Dorian spends so much time with her. Although I wished he wasn't so uptight with Celaena all of the time, their banter was hilarious to read.
You've probably guessed by now that there is a love triangle in this book. Normally I hate them, but this one was pretty easy to ignore. So if you don't want to pick up this book because it has a love triangle, don't let that stop you.
Although the main storyline is the King's competition I found myself much more interested in the murder mystery Celaena had to solve. The competition did feel like a convenient excuse to get Celaena into the castle, and whilst some of the tasks were slightly unrealistic I still like the opportunities it gave Celaena to showcase her talents.
The writing was good; I enjoyed the world building and the characters but I did think the magic system wasn't explored enough for me to really comment on it.
If you're looking for a YA fantasy book to pick up definitely give this one a shot, but don't have extremely high expectations because this was only an introduction to the world and the characters.