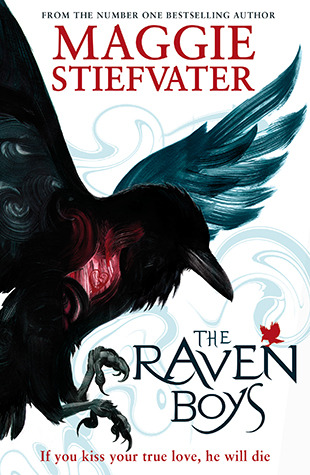 Author: Maggie Stiefvater 
Series: The Raven Cycle
Genres: Young Adult, Fantasy, Paranormal
Release Date(first book): 19th September 2012
Publishers: Scholastic 
Source: Purchased
Buy at: BookDepository
Even if Blue hadn't been told her true love would die if she kissed him, she would stay away from boys. Especially the ones from the local private school. Known as Raven Boys, they only mean trouble.But this is the year that everything will change for Blue.This is the year that she will be drawn into the strange and sinister world of the Raven Boys. And the year Blue will discover that magic does exist.
This is the year she will fall in love
---
What I Liked:
The story is character driven, not plot driven so it's really easy to become invested in them
How whimsical and magical the story felt
The story is so weird but it works.
On my copy of the first book it has the tag line "If you kiss your true love, he will die" this screams a cheesy romance, luckily for all of us this story is far from a cheesy love story, which was a pleasant surprise
Friendships and family relationships are just as important as the romantic relationships
The group's dynamic is so perfect. Seriously, I want a group of friends like Blue and the raven boys.
Every single character is vital to this story. I don't think I can remember a single character that doesn't play a huge role in the story
What I didn't Like:
The ending of the final book. It wasn't that I didn't like it, I just wasn't very satisfied with certain aspects of it.
There were some parts in book 3 and book 4 that dragged for me, but I was in a slump when reading both of them so that's probably why
How late Henry was introduced. I really think I could've loved him but Stiefvater left it too late for me to really care enough to say I loved him. I did like him, though
Do I Recommend It?
YES! I'd recommend giving the first book a try, even if you're not the bigger paranormal fantasy fan (I'm not!). If you like character driven stories, you'll love this.
One Quote Per Book:
Favourite Cover:
This is so hard because they're all so damn beautiful but if I had to pick I'd say The Raven King, maybe because it's the most recent and I've taken loads of pictures but I love the art on the cover.
Favourite Book:
Again, picking a favourite is really hard for me since I gave them all the same rating but I think I liked Blue Lily, Lily Blue the best.