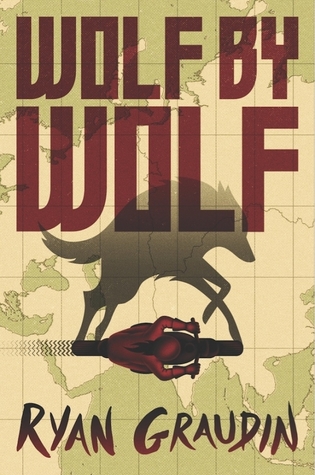 Author: Ryan Graudin
Series: Wolf by Wolf
Genres: Young Adult, Historical Fiction
Release Date: 5th November 2015
Publishers: Orion Children's Books
No. Pages: 390
Source: Purchased & Netgalley
Buy at: BookDepository
Her story begins on a train.

The year is 1956, and the Axis powers of the Third Reich and Imperial Japan rule. To commemorate their Great Victory, Hitler and Emperor Hirohito host the Axis Tour: an annual motorcycle race across their conjoined continents. The victor is awarded an audience with the highly reclusive Adolf Hitler at the Victor's Ball in Tokyo.

Yael, a former death camp prisoner, has witnessed too much suffering, and the five wolves tattooed on her arm are a constant reminder of the loved ones she lost. The resistance has given Yael one goal: Win the race and kill Hitler. A survivor of painful human experimentation, Yael has the power to skinshift and must complete her mission by impersonating last year's only female racer, Adele Wolfe. This deception becomes more difficult when Felix, Adele twin's brother, and Luka, her former love interest, enter the race and watch Yael's every move.

But as Yael grows closer to the other competitors, can she bring herself to be as ruthless as she needs to be to avoid discovery and complete her mission?

From the author of The Walled City comes a fast-paced and innovative novel that will leave you breathless.
---
Caution: This book contains underage smoking/drinking, mild cursing (in German) and moderate fighting/violence
If you've been following my blog since January, you'd know how excited I was to pick this book up. The synopsis sounded like something I would adore and the raving reviews had me sold. I'm still questioning why it took me so long to read it.
Have you ever asked yourself what would our world look like if Hitler had won the second world war? Wolf by wolf is set during an alternate history where the axis powers won the war, so now to commemorate the victory an annual motorcycle race is held known as the axis tour. The prize? An audience with the reclusive Adolf Hitler at the victor's ball.
The story follows Yael, a young Jewish girl who escapes a death camp and joins the resistance. Yael has a deadly secret, due to a series of experiments run on her during her imprisonment at the camp, she's able to skinshift. Now she's using her ability to impersonate the only female victor of the axis tour, Adele Wolfe, as she attempts to win the race and assassinate Hitler.
I adored Yael as a character. The fact that she didn't have her own 'face' meant that her identity was very much made up of her beliefs and her experiences, which you see are both very important to her over the course of the novel. I personally think she was a very strong and an intelligent character, not just because she could fight, but because of how she deals with both her past and what is currently happening in the story.
Speaking of her past, I found the Graudin weaved her past with the events happening in the present effortlessly. She paid enough attention to both time periods equally, that neither of them felt boring or like they were just being used to info dump. I also found that there weren't any irrelevant subplots which took away from the main story line, which helped to keep my attention and made every chapter interesting.
When Yael enters the axis tour she believes her biggest challenge is going to be surviving the grueling journey. However, that's until she realizes Adele's twin brother, Felix, has also entered the race and that Adele and Luka, another contestant and former victor, have more of a history than she knew about. I loved watching how Yael had to adapt to being around two people who knew Adele far better than she did. I also really liked both Felix and Luka as characters.
I knew I was going to enjoy this book from the synopsis, but I wasn't prepared for just how much I loved it. I'm impatiently counting down the days until I can get my hands on the sequel.