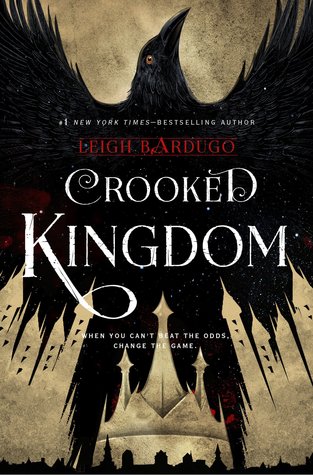 Author: Leigh Bardugo
Series: Six of Crows
Genres: Young Adult, Fantasy
Release Date: 27th September 2016
Publishers: Orion's Children's Books
No. Pages: 536
Source: Purchased
Buy at: BookDepository | Wordery | Amazon
When you can't beat the odds, change the game.

Kaz Brekker and his crew have just pulled off a heist so daring even they didn't think they'd survive. But instead of divvying up a fat reward, they're right back to fighting for their lives. Double-crossed and badly weakened, the crew is low on resources, allies, and hope. As powerful forces from around the world descend on Ketterdam to root out the secrets of the dangerous drug known as jurda parem, old rivals and new enemies emerge to challenge Kaz's cunning and test the team's fragile loyalties. A war will be waged on the city's dark and twisting streets―a battle for revenge and redemption that will decide the fate of the Grisha world
---
Warning: This review may contain spoilers for Six of Crows and mild spoilers for The Grisha Trilogy
You all know how much I loved book one in this duology so naturally my expectations for its sequel were extremely high. I'll admit that I was slightly worried that Crooked Kingdom wouldn't live up to its predecessor, but I needn't have worried.
Crooked Kingdom picks up almost immediately where Six of Crows left off. The dregs are back in Ketterdam, having successfully pulled off a daring heist but instead of relishing in their reward they're forced to once again pull off the impossible. After Van Eck's betrayal, the crew must find a way to rescue Inej and get their money, whilst battling a city full of people hunting them.
Crooked Kingdom is more action packed, more complexed and the stakes are even higher. In the hands of a lesser skilled author, this wouldn't have worked but Bardugo is a master storyteller who handles multiple POVs excellently and sets a gripping pace that will keep you turning the page. She's able to weave in twists and turns that I didn't see coming and I was honestly terrified my favourites weren't going to survive.
Whilst a good plot is essential, I do think these books would be nothing without the brilliant cast of characters. The dregs are a group of three-dimensional, morally grey and diverse individuals who each add something to the story. They're definitely not the heroes we're used to but you can't help but root for them anyway.
In Six of Crows we got glimpses into everyone's pasts, apart from Wylan's. We do finally get to learn more about his backstory in this book and all I'll say is I love Wylan Van Eck so much. He really comes into his own in this book and shows that he's worth more than just being a merchant's son. Also, can we talk about how adorable his banter/romance with Jesper is? Wylan blushing at Jesper's remarks is one of my favourite things ever. Speaking of Jesper, he's forced to confront the consequences of his poor decisions. He spends a large portion of this book trying to make up for them and accepting responsibility. It allows his character to grow from just being the comic relief of the group, which is great.
In Six of Crows Matthias is very much struggling between his loyalties to Fjerda and his love for Nina. However, in Crooked Kingdom his loyalties lie very much with Nina. Matthias is definitely the character that has grown the most over the course of this series. He's gone from believing the ignorant and hateful views of Fjerda to questioning them and realising they're wrong. His love for Nina warmed my heart and watching him help and standby her whilst she battled her craving for Jurda Parem was touching. Nina was probably my favourite (tied with Inej) character from Six of Crows and it was heart breaking watching her struggle with the effects of taking the drug and also seeing how terrified she was to use her powers because of it. However, this book very much reinforced my belief that Nina Zenik is a queen.
Kaz Brekker is still the ruthless and cunning leader of the dregs but we get to see a very different side of him. He's still a master schemer and can get the crew out of a number of situations that I was sure would be the end of them. However, he's also dealing with what losing Inej meant to him which forces him to come to terms with the feelings he has for her. He also continues to struggle to deal with the affects his brother's death has had on him but he does start to open up to Inej about it which was heartening. We also see how Inej's own trauma, caused by working at The Menagerie, has affected her and how she's still trying to cope with it. It's no secret that I love Inej. She was my first favourite when reading Six of Crows and I loved her arc in this one just as much.
Whilst you didn't need to read The Grisha trilogy to read the first book, I would highly recommend you do read that trilogy before you pick up this sequel. Some of the characters in the original trilogy do pop up in this one and it will definitely help you appreciate them more if you've read The Grisha trilogy first.
It still amazes me how much Leigh Bardugo has grown as an author since writing The Grisha trilogy. Whilst I enjoyed her original trilogy, the Six of Crows duology is in a league of its own. This is definitely my all-time favourite series. Not only does it have a great plot with some of my favourite characters, it's also incredibly diverse. If you haven't read this series yet I'd highly recommend it.