If you missed my announcement post some friends and I are hosting the #DiversityDecBingo which is a month-long challenge which aims to encourage people to read books by marginalized authors and about marginalized characters.
The rules are simple; all you have to do is pick 5 squares in a vertical/horizontal/diagonal row and read one book per prompt (you can't double up on books so you do have to read a different book for each square). If you want to participate but have yet to decide on a TBR I would highly recommend you read my announcement post as I give recommendations for all 24 categories, as well as links to where you can find more.
In today's post I'll be sharing the row I've chosen and the books I plan to read. There are some categories where I have more than one book I want to read, so this TBR may change slightly but as of right now these are the books I'm planning to read.
The Row I've Chosen
---
I chose this row because it was the one I could think of at least one per category before I'd done any research. I know I could've changed my choice once I'd researched for my previous post but I'd already made sure I owned/borrowed the books needed to complete this row. I also really wanted to read a book featuring a Pansexual MC because I've never read one. I also don't think I've read very mainy SFF books with LGBTQIA+ MCs, the LGBT+ books I've previously read have all/almost all been contemporary books.
A Book With A PoC On The Cover
---
I've owned The Forbidden Wish by Jessica Khoury for a few months now. I've intended to read it several times now but I always end up reading another book instead so it continues to collect dust on my shelf. This is an Aladdin retelling where the jinni is a girl named Zahra. That's all I know about it and all I really want to know. I've only seen positive reviews for it so I'm very excited to finally be picking it up.
A Book With A PoC with Natural Hair
---
Can we just take a moment to appreciate how beautiful The Blazing Star by Imani Josey's cover is? This book isn't actually out yet (It comes out December 6th so if you want to read it during the #DiversityDecBingo you can) but I was fortunate enough to get accepted for an eARC via netgalley. Honestly, I don't know what this book is about but I like going into books not knowing anything.
A Book With A Disabled Main Character
---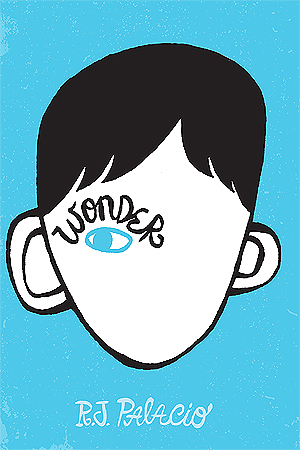 I'm currently listening to Wonder by R.J. Palacio (I'll probably be finished by the time this post goes up though). I've been wanting to read this book for a very long time. It's about a little boy with facial deformity who starts attending school for the first time (he was previously home schooled). I've seen nothing but positive things about this so my expectations are incredibly high.
A SFF Book With A LGBTQIA+ Main Character
---
For this one I'll be reading A Darker Shade of Magic by V.E. Schwab, which you might remember was one of the books I was supposed to be buddy reading with a friend of mine a few months back. You've probably already heard of this book since almost everyone loves it but if you don't know the story is about three different Londons (Red London, White London and Grey London) and follows Kell who is one of the very few people left who can travel between the different Londons.
A Book With A Pansexual Main Character
---
 I've been meaning to read more comics and enjoyed the Deadpool movie so I decided to read Deadpool Classic, Volume 1 by Fabian Nicieza & Co for this square. I have no idea if this is the best place to start his comics but after looking at various comic order suggestion sites I decided it would be the one I stat with (If you're a comic expert help a girl out and let me know if this is the right/wrong place to be starting).
---
Will you be participating in the #DiversityDecBingo? What row will you be doing? What books are on your TBR (If you're still undecided make sure to read my announcement post where I give suggestions for all 24 categories)? Tell me in the comments!
---
Find Me Here
Twitter | Tumblr | Goodreads | Instagram | Bloglovin | Email
---