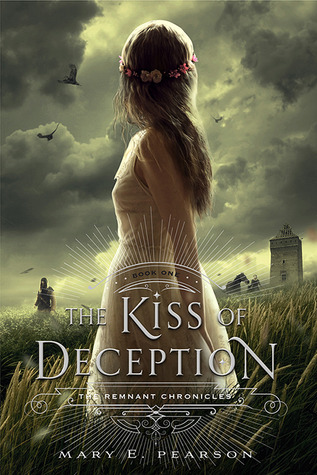 Author: Mary E. Pearson
Series: The Remnant Chronicles
Genres: Young Adult, Fantasy
Release Date: 8th July 2014
Publishers: Henry Holt & Co.
No. Pages: 470
Source: Purchased
Buy at: BookDepository | Wordery | Amazon
A princess must find her place in a reborn world.

She flees on her wedding day.

She steals ancient documents from the Chancellor's secret collection.

She is pursued by bounty hunters sent by her own father.

She is Princess Lia, seventeen, First Daughter of the House of Morrighan.

The Kingdom of Morrighan is steeped in tradition and the stories of a bygone world, but some traditions Lia can't abide. Like having to marry someone she's never met to secure a political alliance.

Fed up and ready for a new life, Lia flees to a distant village on the morning of her wedding. She settles in among the common folk, intrigued when two mysterious and handsome strangers arrive—and unaware that one is the jilted prince and the other an assassin sent to kill her. Deceptions swirl and Lia finds herself on the brink of unlocking perilous secrets—secrets that may unravel her world—even as she feels herself falling in love.
---
If you've been following my blog since the start of the year you already know how excited I was for this book. I was positive this was going to be a new favourite. Unfortunately, since I don't think there's a point beating around the bush, I didn't love this. It was still an okay read and I can definitely see why people would love this but personally for me it was a let down.
The Kiss of Deception follows Lia, princess and first daughter of Morrighan, as she flees on the day of her wedding day. Now Lia, determined to make a new life for herself, is working in a tavern in a distant village where she meets two strangers. Unbeknown to her one is an assassin sent to kill her and the other is the jilted prince she was supposed to wed, but like Lia the reader doesn't know who is who.
Whilst in theory the concept of not knowing who is who sounds intriguing, I do think it took away from the overall plot. The mystery was the focal point of the story and there wasn't much else going on, which ultimately made the book boring. Also, I do think their identities were made fairly obvious from the moment we meet them, which made the big reveal a let down. Despite this, the ending hints at a far more interesting plot in the sequel.
The world Pearson has created is vibrant and interesting.Not only has she built a history for her world, which we get glimpses into through little extracts between sections, but she's also created her own language. I can't wait to further explore this world and learn more about its history and how it ties in with present events.
If you've read any of my previous reviews, you'd know I like to talk about the characters first. Unfortunately, Lia was unmemorable. Whilst I definitely do not hate her, she didn't stand out to me. One thing about her that I did admire is the fact that she did not run away hastily without a plan. She knew what she wanted and she knew how she would get it. Furthermore, I was happy she didn't act like a spoiled royal and was willing to work for her new life instead of expecting everything to be handing to her on a silver platter.
Like Lia, none of the side characters stood out to me.
There is a love triangle, and whilst I've seen a few reviews disagreeing with me, I do think the story focuses heavily on it. However, Lia makes it very clear who she likes so it isn't too annoying.
I've already read the second book and I can confirm it is better than the first one, I'll be posting a review for it soon.