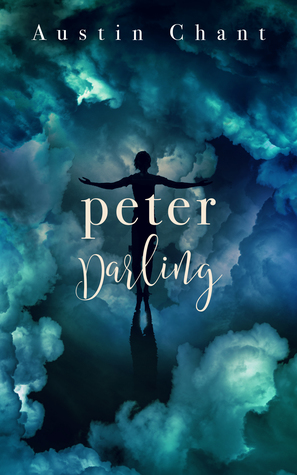 Author: Austin Chant
Series: None
Genres: Fantasy
Release Date: 15th February 2017
Publishers: Less Than Three Press
No. Pages: 164
Source: Netgalley
Buy at: BookDepository | Wordery | Amazon
Ten years ago, Peter Pan left Neverland to grow up, leaving behind his adolescent dreams of boyhood and resigning himself to life as Wendy Darling. Growing up, however, has only made him realize how inescapable his identity as a man is.

But when he returns to Neverland, everything has changed: the Lost Boys have become men, and the war games they once played are now real and deadly. Even more shocking is the attraction Peter never knew he could feel for his old rival, Captain Hook—and the realization that he no longer knows which of them is the real villain.
---
After finishing Tiger Lily I was really in the mood for another Peter Pan retelling so when I saw this one on netgalley I knew I had to request it.
Peter Darling follows Peter, who left Neverland ten years ago and resigned himself to life as Wendy Darling. Now an older Peter returns to Neverland but things have changed. The war games he played as a child suddenly seem far sinister and real, and Peter is struggling between who the real villain is.
Whilst this might be a retelling, it's so wonderfully unique and refreshing that you could enjoy this regardless of what you think of the original Peter Pan story. Whilst the beginning is really repetitive I think it plays well into Peter's character, which, despite being aged up, felt authentic to the Pan in the original tale. He's intent on resuming things as he left off, which means attacking the pirates and igniting a war. I will admit that this felt a little juvenile since he's supposed to be in his twenties. However, after 50% of the book the story takes a different turn. Suddenly, Peter's questioning just how much of a game everything is and this is when his character really starts to develop.
There is a romance between Hook and Peter and before going into this I was skeptical because of the possible age difference but whilst Peter was aged-up, Hook felt younger and so it didn't really bother me. Especially since Hook makes a point to ask Peter for consent multiple times. However, that being said it did feel really quick and I do think their development would've felt more authentic if the book had been longer.
The world-building definitely relies heavily on the original story, however Chant does introduce a few changes which I did appreciate. I do think this book did lack development or substance for any character that wasn't Peter or Hook, which is a real shame. The lost boys lacked any depth and Ernest was only slightly better.
I do want to warn you that the synopsis makes this story to seem a whole lot darker than it really is. The main focus is definitely on Peter's past, his relationship with Hook and confronting whether who gets to be the villain and who's the hero is really as black and white.
I also want to quickly mention that this is an #ownvoices book in terms of gender and I also believe it's also #ownvoices in terms of sexuality too.
Overall, this was a good read and I really loved Chant's take on this story. If you're looking for a Pan retelling you should definitely give this one a try.